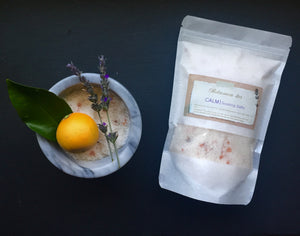 Calm Soaking Salts
Regular price $16.00 Sale
Calm Soaking Salts made with organic essential oils of lavender, sweet orange, and bergamot for a calming bath experience.
These minerals salts consist of pink Himalayan salt, dead sea salt, and epsom salt.  These bath salts are very therapeutic and are rich with 84 trace minerals.  These minerals such as magnesium, calcium, manganese and phosphorus to name a few are absorbed through the dermal layers of the skin.    These minerals have been shown to reduce muscle soreness, cleanse and detox the skin, and increase circulation.  Enjoy the benefits of these natural salts to relax and ease tension and stress.
Instructions for use: add 2 oz. of bath bomb soak to warm bath water and relax.
Ingredients: Himalayan pink sea salt, epsom salt, Dead Sea salt, and organic essential oils of lavender, bergamot, and sweet orange.