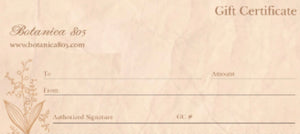 Gift Certificate
Regular price $25.00 Sale
A splendid way to treat those you love! Purchase either a $25, $50, $75, or $100 gift certificate.
If you have a message you would like us to include, please let us know!
How to Redeem:
You can redeem your gift certificate online by entering the gift certificate number into the Special Instructions box on the checkout screen and stating that you would like to redeem the certificate with your order. We will then apply this credit manually in our office as we process your order. Because we must do this manually, it will not immediately reflect in the total of your purchase in the cart checkout.  Please fill out your billing and shipping address information as you normally would and then we will deduct the gift certificate balance from the total cost of your order.  Note: Add discount code freeship at check out for free shipping on our gift certificates. Freeship discount only works for gift certificates.